In 2001, Abd'Allah A. Adesanya became the first Muslim chaplain for New York Fire department. The Islamic Society of Fire Department Personnel is an organization with about 20 members. Reports that there are between, 200 to 300 Muslims in the 16,000-member department.
In 2005, Althia Collins co-founded the first Muslim sorority based on Islamic principles.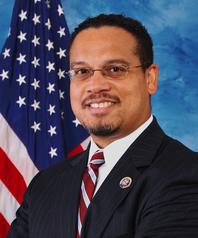 In 2006, the first Muslim Congressman Representative Keith Ellison of the 5th District of Minneapolis, Minnesota was elected. 
On January 3, 2007, Nieema Thasing was, appointed as a Representative for Ward I in Elkton, South Dakota by the Mayor and the full council.
In 2007 Imam Heshaam Jaaber pass away he was one of the early leaders of the "Addeynu Allah Universal Arab Association," which was founded by Professor Ezeldeen in the mid-1930s. Imam Hessaham Jabbar also was the one who led brother Malik (Malcolm X) Shabazz 's funeral (Janaza).
In 2008, Lt. Saif-ul-Islam became the first Muslim chaplain assigned to the Marine Corps. Technically, he is a Navy chaplain (the Navy supplies chaplains for the Marines). He was, commissioned in July and reported to his first assignment in September at the South Mesa Chapel at Camp Pendleton, north of San Diego. "History will judge me as the first one in the Marines." He admitted that is ok, because the way he sees it, there is a higher judge. "It's all God's call and God's will. We are God's ambassadors." It now has six. Saif-ul-Islam was the Navy's second Muslim chaplain. The Air Force has none.
In 2008, the First Muslim to take command of Aviation Squadron Lt. Nathan Christensen, USS John C. Stennis Deputy Public Affairs Officer USS JOHN C. STENNIS, At Sea – Cmdr. Muhammad Muzzafar F. Khan relieved Cmdr. Timothy Langdon as commanding officer of Sea Control Squadron (VS) 31 during a ceremony held at sea aboard USS John C. Stennis (CVN 74) May 13. Khan is the first Muslim to take command of an operational aviation squadron in the U.S. Navy.
In 2008, the University of Duke names its first Muslim Chaplain Abdullah T. Antepli.
In 2008, Imam Wallace Deen Mohammed was born October 1933 passed September 9, 2008, he was the seventh child of Clara and Elijah (Poole) Muhammad. Imam W. Deen Mohammed was the father of nine children.
In 2008, A Detroit- area newspaper stated that 'the results of 2008 primary could lead to Hamtramck, Michigan becoming the first city council in the U.S. to be controlled by Muslims.'
In 2008, Sada Cumber assumed his duties as Special Envoy to the Organization of Islamic Cooperation (OIC) on March 3, 2008. Mr. Cumber term ended January 20, 2009. As Special Envoy, Mr. Cumber served as the U.S. representative to the OIC, and promoted mutual understanding and dialogue between the United States and Muslim communities around the world.
"It's the beginning of something new," Omar said. "This district has a legacy of making history. I am excited about our progressive values and to be able to be on the ground at the Capitol representing the diverse people of my district and being a champion with them and for them."

Omar, a 34-year-old Muslim-American woman who proudly wears the hijab, is suddenly thrust into leadership of a rapidly emerging DFL coalition that is younger, more-urban and more racially and ethnically diverse than at any time in its history.